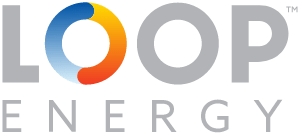 VANCOUVER, BRITISH COLUMBIA and FREIBURG, GERMANY – March 6, 2022 – Loop Energy™ (TSX: LPEN), a designer and manufacturer of hydrogen fuel cell solutions, has completed third-party validation of the use of its patented eFlow™ technology in PEM electrolyzers. In partnership with Fraunhofer USA, testing was conducted by the German Fraunhofer Institute for Solar Energy Systems ISE, and has demonstrated a fuel cell architecture with trapezoid flow field design can enhance temperature uniformity. When incorporated into conventional PEM electrolysis cells, this bipolar plate architecture demonstrates it can increase hydrogen production. Loop Energy is now seeking industry partners to develop a full-scale electrolyzer prototype for commercial validation.
Results show that eFlow architecture creates a more stable and uniform operating environment in the PEM water electrolysis test cells compared to conventional flow fields with parallel channels, resulting in greater hydrogen production and improved efficiency. Testing also shows the enhanced uniform operating environment should have a beneficial impact on durability.
"Results from the validation process show that the new flow field technology has the potential to surpass typical levels of hydrogen production that we see in the industry today and supports green hydrogen production to become increasingly economically viable," said Fraunhofer ISE Head of Department Chemical Energy Storage, Dr. Tom Smolinka. "The difference we have seen from current electrolyzer performance with conventional parallel flow field is that the adapted design appears to create more uniform temperature distribution could make it an enabling technology for some of the advanced materials needed to really increase the economics of electrolyzers and green hydrogen."
Encouraged by the results, Loop Energy and Fraunhofer ISE are inviting expressions of interest from potential industry partners. Interested parties will partner with the two companies in designing and manufacturing an electrolyzer prototype to verify eFlow's benefits for producing hydrogen on a commercial scale. All expressions of interest can be directed to Loop Energy Chief Commercial Officer, George Rubin.
"The completion of third-party validation is an important milestone for Loop Energy as we explore how eFlow can transform the hydrogen production sector," said Loop Energy President & CEO, Ben Nyland. "We're extremely pleased to partner with Fraunhofer ISE and draw on their long-lasting experience in cell and stack design for PEM water electrolysis. The results have been encouraging, and we're excited to begin the search for strategic partners to support us as we innovate electrolyzer technology."
Currently, Loop Energy's proprietary eFlow technology is applied in its fuel cell products to offer unmatched levels of fuel efficiency. Its tapering channel design enables eFlow to provide improved uniform current density and increases gas velocity to deliver superior thermal and water management. With the new discovery that eFlow can benefit hydrogen production efficiency, it expands the patented technology's potential use across the hydrogen energy vertical.
Global demand for hydrogen production is projected to grow by more than US$1 trillion by 20501. As a result, both new and existing hydrogen producers are searching for a competitive advantage to meet rising demand.
Ben Nyland will share details of this development at CERAWeek on March 6 and 7 alongside Thomas Schuelke, president of Fraunhofer USA, which also acts as project partner. In addition, Dr. Tom Smolinka and Loop Energy Chief Scientist, Dr. Sean Mackinnon will present the technical results at Hannover Messe on April 17. Requests for meetings at either event can be coordinated with Ethan Hugh.
Loop Energy's management team will share more details on its end-of-year financial results call on March 30. Call details can be found on Loop Energy's website.
---
About Fraunhofer ISE
The Fraunhofer-Gesellschaft, based in Germany, is the world's leading organization for application-oriented research. With its focus on key technologies of relevance to the future and on the exploitation of results in business and industry, it plays a central role in the innovation process. As a guide and stimulus for innovative developments and scientific excellence, it helps shape our society and our future. Founded in 1949, the organization currently operates 76 institutes and research facilities in Germany. More than 30,000 employees, most of them trained in the natural sciences or engineering, produce the annual research volume of 2.9 billion euros. Of this, 2.5 billion euros is spent on contract research. Further information: www.ise.fraunhofer.de/en
About Fraunhofer USA
Fraunhofer USA, Inc., a legally independent US affiliate founded by Fraunhofer-Gesellschaft, is an R&D organization working with industry, universities, and state and federal governments on contract R&D projects. Fraunhofer is in the high-tech problem-solving business and utilizes world-class scientific and engineering expertise to engage in complex R&D projects across many different disciplines. Through Fraunhofer USA, U.S. clients can connect to the 79 research units throughout the U.S. and Germany with over 30,000 employees, predominantly scientists and engineers. www.fraunhofer.org
About Loop Energy Inc.
Loop Energy is a leading designer and manufacturer of hydrogen fuel cell systems targeted for the electrification of commercial vehicles, including light commercial vehicles, transit buses and medium and heavy-duty trucks. Loop Energy's products feature the company's proprietary eFlow™ technology in the fuel cell stack's bipolar plates. eFlow is designed to enable commercial customers to achieve performance maximization and cost minimization. Loop Energy works with OEMs and major vehicle sub-system suppliers to enable the production of hydrogen fuel cell electric vehicles. For more information about how Loop Energy is driving towards a zero-emissions future, visit www.loopenergy.com.
Forward Looking Warning
This press release contains forward-looking information within the meaning of applicable securities legislation, which reflect management's current expectations and projections regarding future events. Particularly, statements regarding the Company's expectations of future results, performance, achievements, prospects or opportunities or the markets in which we operate is forward-looking information, including without limitation, purchase orders, cost reduction, profitability and revenue targets; our future growth prospects and business outlook including without limitation the expected demand for our products, the allocation of resources and funds, the expected timeline for profitability, the planned growth of our customer base and the expected growth of our operations globally. Forward-looking information is based on a number of assumptions (including without limitation assumptions with respect the current and future performance of the Company's products, growth in demand for the Company's products, the Company's ability to execute on its strategy, achieve its targets and progress existing and future customers through the Customer Adoption Cycle in a timely way, and is subject to a number of risks and uncertainties, many of which are beyond the Company's control and could cause actual results and events to vary materially from those that are disclosed, or implied, by such forward-looking information.
Source: Loop Energy Inc.