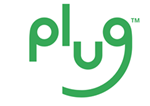 Plug Power Inc. (NASDAQ: PLUG), a leading provider of turnkey hydrogen solutions for the global green hydrogen economy, unveiled a new high-power stationary fuel cell system for charging commercial electric vehicle (EV) fleets.
Operators deploying commercial electric vehicles face many obstacles, from grid power capacity restrictions to clean power requirements to long waits for grid infrastructure upgrades and installations. As many operators are delaying or forgoing EV adoption due to these challenges, Plug provides operators with a new solution: a clean hydrogen-powered fuel cell system that cost effectively charges EV fleets, getting zero-emission EV vehicles deployed to meet fleet operator's sustainability and operational goals.
"As EV adoption increases dramatically over the next few years and electricity demand strains the grid, our new high-power fuel cell system will be a game changer for the EV industry," said Jose Luis Crespo, General Manager of Applications and Global Accounts for Plug. "Customers are approaching Plug for hydrogen power generation options, and we expect this offering to be one of the largest applications for stationary use this year."
Plug has significant interest in this new solution from EV fleet owners such as delivery van fleets, rental car companies with battery EVs, and telecom providers with fleets of maintenance vehicles, as well as public charging networks and EV charger manufacturers.
Plug's standard 18,000-gallon liquid hydrogen tank combined with its new megawatt-scale PEM fuel cell solution can provide over 60 megawatt hours (MWh) of instantaneous energy – enough to charge more than 600 EVs.
About Plug
Plug is building an end-to-end green hydrogen ecosystem, from production, storage and delivery to energy generation, to help its customers meet their business goals and decarbonize the economy. In creating the first commercially viable market for hydrogen fuel cell technology, the company has deployed more than 60,000 fuel cell systems and over 180 fueling stations, more than anyone else in the world, and is the largest buyer of liquid hydrogen. With plans to build and operate a green hydrogen highway across North America and Europe, Plug is building a state-of-the-art Gigafactory to produce electrolyzers and fuel cells and multiple green hydrogen production plants that will yield 500 tons of liquid green hydrogen daily by 2025. Plug will deliver its green hydrogen solutions directly to its customers and through joint venture partners into multiple environments, including material handling, e-mobility, power generation, and industrial applications. For more information, visit www.plugpower.com.
Plug Safe Harbor Statement
This communication contains "forward-looking statements" within the meaning of the Private Securities Litigation Reform Act of 1995 that involve significant risks and uncertainties about Plug Power Inc. ("PLUG"), including but not limited to statements about: the dramatic increase in EV adoption over the next few years; anticipated interest in Plug's new high-power fuel cell system from EV fleet owners, as well as public charging networks and EV charger manufacturers. Such statements are subject to risks and uncertainties that could cause actual performance or results to differ materially from those expressed in these statements. For a further description of the risks and uncertainties that could cause actual results to differ from those expressed in these forward-looking statements, as well as risks relating to the business of PLUG in general, see PLUG's public filings with the Securities and Exchange Commission (the "SEC"), including the "Risk Factors" section of PLUG's Annual Report on Form 10-K for the year ended December 31, 2022 and any subsequent filings with the SEC. Readers are cautioned not to place undue reliance on these forward-looking statements. The forward-looking statements are made as of the date hereof, and PLUG undertakes no obligation to update such statements as a result of new information.