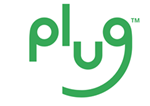 LATHAM, N.Y., Sept. 23, 2022 (GLOBE NEWSWIRE) — Plug Power Inc. (NASDAQ: PLUG), a leading provider of turnkey hydrogen solutions for the global green hydrogen economy, and Lhyfe, one of the world's pioneers in the production of green and renewable hydrogen, announced yesterday the world's first production of hydrogen at sea on a floating platform with a Plug state-of the-art 1-megawatt electrolyzer on an offshore green hydrogen production site in Saint-Nazaire, France. Plug's electrolyzer will be directly powered by off-shore wind turbines.
Plug's marinized EX-425D 1-megawatt electrolyzer product will be the first electrolyzer operating on a floating platform under extreme conditions. The electrolyzer system has been marinized to meet acceleration, tilt and other marine specifications.
The project, named "Sealhyfe," paves the way for leveraging offshore wind assets being built globally, and specifically, around the North Sea in Europe. The project will be operated for 6 months at the pier, then for 12 months off the coast of Le Croisic at the offshore testing site SEM-REV by French engineering school Centrale Nantes.